COVID-19 SAFETY PRACTICES
Fabrinet has instituted broad ranging measures to protect the health and welfare of our employees during the covid-19 pandemic, including a policy of encouraging all employees worldwide to become vaccinated. Due in particular to the relatively low vaccination rate among the Thai population generally, these measures have included providing vaccine – free of charge – to all of our Thailand based employees. Thanks in large part to this ongoing program, Fabrinet now has a worldwide employee vaccination rate in excess of 95%.
In addition, Fabrinet has undertaken the following initiatives at some or all of its facilities:
Work from Home program instituted to increase social distancing, as well as to shield the vulnerable, who are still being paid;
Sanitization of busses transporting employees, as well as all incoming packages.
Requirement that facemasks be worn at all times, except while eating in socially distanced cafeterias;
Limits on ingress to buildings, and temperature and symptom checks at all entrances;
Limits on visitors to facilities;
Automation of doors and restroom faucets, to decrease touchpoints;
Antigen testing of symptomatic personnel;
Contract tracing within factory, and antigen testing and quarantining of those identified as close contacts to infected individuals.
Fabrinet funded medical hotline with physician;
Emergency vehicle transport for employees with Covid; and
Other employee support, emotional and otherwise, where necessary.
To ensure sufficient social distancing in its canteens, where masks cannot be worn at all times, Fabrinet has limited the number of seats, marked off spacing for queuing, added additional space between tables and chairs, and set up additional temporary space for canteen and rest areas.
In all canteens, we have also:
Installed motion sensors for water dispensing machines.
Required that food vendors always wearing face masks, gloves and goggles.
Banned raw foods and fruits imported from high risk countries.
Required washing of all vegetables with Covid-19 sanitizer, and installed a QR code for cashless payments.
Face Mask and Goggle Distribution
We have distributed face masks to all employees to wear at all times, and goggles to all employees who take the company's shuttle buses.
All passenger and driver body temperatures are check before getting on Fabrinet provided buses ridden to and from work.
All shuttle buses have alcohol gel for passengers.
Bus drivers regularly clean all seats with sanitizer.
We have had more employees work from home to increase social distancing at the office.
Alcohol Gel in All Areas of the Company
Employees can wash their hands by using alcohol gel provided throughout the company.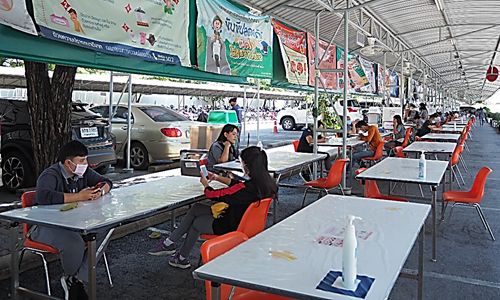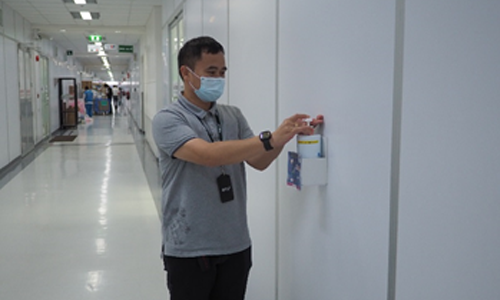 Cleaning Public Areas With Sanitizer Spray
All public areas are cleaned with sanitizer spray at least every 2 days.
All visitors who need to enter the company must get approval from the management via electronic system.
All visitors must submit to temperature check at health screening station, provide proof of vaccination and negative Covid test, and report travel background before entering the company.
A Fabrinet host must always escort the visitor.
Our safety department follows up observation of visitors for 14 days after their visit to the company.
Covid-19 Info Updates are Provided to All Employees
Thermo-scan machines have been installed at the entrances of all buildings.
All employees must walk through this machine before entering the building. If the temperature shown is more than 37.5 C, the guard will stop that person from entering.
Automatic sensor activated sliding doors have been installed at all entry locations, and many other locations within the company.
Automatic faucets, antiseptic soap dispensers, and alcohol gel dispensers have been installed.
Partitions have been installed between basins.
Employees must sanitize hands before and after use of the restroom.
Limited numbers of persons are allowed in restrooms at all times.
Over 95% of our employees are vaccinated. Over 90% of employees in Thailand were vaccinated free with company provided vaccine.
Over 95% of on site service providers (canteen vendors, janitors, bus drivers, etc.) have also been vaccinated by the company free of charge.
Fabrinet provides Covid antigen rapid tests for the motorcycle taxi drivers to detect any infection before it may spread.
Fabrinet has also provided face masks, gloves, alcohol spray and vaccination to protect the motorcycle taxi drivers from getting infected and spreading the disease.
Covid-19 Info Provided to The Community
Fabrinet provides Covid-19 information to the community, and encourages best practices.
Fabrinet Has Donated Medical Equipment to Help Fight Covid-19
Fabrinet's Assistance to The Community
Fabrinet and Varintorn (Fabrinet's supplier) donated 1,090 kg. of recycled boxes to SCG Packaging, who modified the boxes into beds for Covid-19 camp patients.
A total of 77 beds were produced to help Covid-19 camp patients.
Kitchen of Khun Pha (For The Quarantined)
Fabrinet donated 55,500 baht to the Khun Pha kitchen project, which supports persons quarantined in the local communities (Khun Pha Soi, Eua A-Thorn apartment and Tong Luong village).